Sometimes, what's good for captive wildlife might not be an ideal solution for a structure's building envelope. And what is good for the building envelope might not always be beneficial for the animal. But, sometimes, you can achieve the best of both worlds.
Niabi Zoo is a small zoo located in Coal Valley, Illinois, near Davenport, Iowa. To enhance the level of care provided to its giraffe herd, the zoo recently completed renovations to its giraffe building, which included a complete floor and wall rehabilitation of the giraffe enclosure cages.
"We are happy to have completed these improvements to our giraffe building," said Zoo Director Marc Heinzman, "This project was essential to improving the care of Niabi Zoo's giraffes."
With its peeling wall treatment and scratched concrete floors, the enclosure was getting harder and harder to maintain and thoroughly clean. It required a comprehensive solution to not only protect the concrete floor and walls, but to provide a safe, clean and easy-to-maintain area for the giraffes.
When it came time to repair the enclosure, Niabi Zoo contacted Protective Industrial Polymers.

PIP's ZooSpec Antimicrobial Zoological Floor & Wall Systems have been specifically developed to not only withstand the daily rigors of a zoo environment, but also provide a comprehensive approach to controlling microbe growth, as well as offer enhanced safety benefits.
"ZooSpec floor and wall systems have been formulated with antimicrobial additives that remain active for the life of the system," said Sean Walsh, Marketing & Product Development Manager at PIP. "These systems are also designed to penetrate up to 6″ into the substrate with an antimicrobial presence. This provides redundant layers of sanitary benefit and that is perfect for such an environment."
The floor and walls of the enclosure were stripped and mechanically abraded down to bare concrete. A spray applied antimicrobial concrete pretreatment was applied, followed by a new polymer floor and wall system.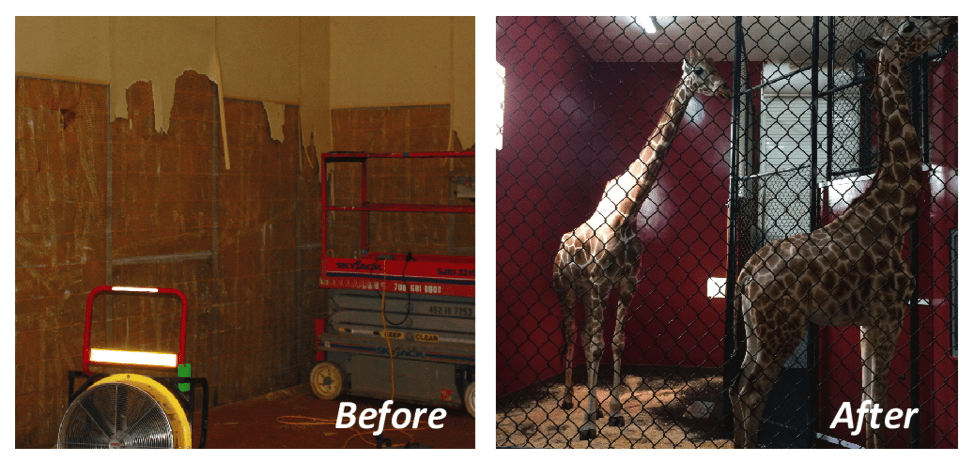 Renovations to the floor included a new textured urethane concrete floor utilizing Hoof-Guard, a hoof maintenance and safety broadcast additive. This additive helps in keeping the giraffes' hooves naturally trimmed to a proper length while walking across the floor surface.
"Giraffe hooves must be kept from overgrowth in order to prevent the development of injury," said Heinzman. "Our new floor aids in keeping our giraffe's hoofs evenly worn, which is a blessing, especially in the off-season. It's important to us that we provide the best care possible, and the ZooSpec system allows us to minimize the growth of potentially harmful agents while also improving the hoof care of the giraffes."

Niabi Zoo now has the best of both worlds: A long-lasting, durable, easy-to-clean, sanitary building envelope that also promotes animal health, safety and improved natural hoof maintenance.
Do you have a zoo or animal facility flooring project, but don't know where to start? Click the following link to learn more about ZooSpec Antimicrobial Floor and Wall Systems. Or, our Flooring Self-Assessment Tool can help you determine the ideal solution for your unique application.
Latest posts by Sean Walsh
(see all)