Anti Slip Floor Coating Additive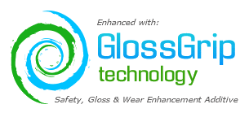 GlossGrip is a micro-spherical safety and wear additive that creates a more slip resistant and better wearing surface profile, while retaining a high-gloss, easily cleanable finish. The result is a durable anti slip floor coating.
Unlike traditional angular aggregate broadcast additives that rely solely on installation skill, the GlossGrip additive is incorporated into the polymer system matrix during mixing, providing a more even distribution of wear and safety enhancement. With GlossGrip, anti slip industrial floor coating,  you can achieve consistent, repeatable surface profile textures.
We will work closely with our contractor partners to provide the anti slip floor coating solution you require throughout your facility.
50% Greater Wear
Excellent Gloss Retention
Easy-to-Clean
Longer Service Life
Repeatable Textures
Lower Maintenance Cost