Your animal clients' owners have a choice when it comes to finding the right service to care for their treasured pets.
You spend a lot of time and energy properly treating the animals that come through your door. Creating a welcoming, sanitary environment for pet owners is just as important.
Your Floors Can Say A Lot About Your Service
Customers expect a clean and attractive operation.  And, your floor should reflect your quality level of service.  Durability, slip-resistance, aesthetics and ease of maintenance are key features of any floor you select.  Additionally, a floor that promotes animal health safety and does not support the growth of dangerous microbes can support your goal of providing quality care services.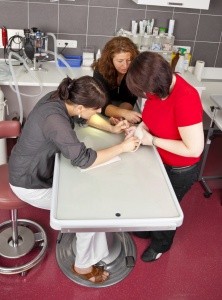 Advantages of Resinous Floor Coating Systems
Bright, reflective floor coatings enhance facility aesthetics
Easy to clean and maintain
An array of decorative options that can support your brand
Excellent impact and abrasion resistance
Slip-resistant for employee and client safety
Resists staining from animal urine and fecal matter
Antimicrobial options for health safety and sanitary concerns
Your Flooring is Very Impactful
Although it may not be the first thing that comes to mind, a quality resinous floor coating system can tie your entire service operation together, providing a cohesive look that is not only beautiful, but safe and hygienic. You want your clientele to have a positive experience every step of the way. After all, quality animal care services combined with top-notch customer service is what keeps your clients coming back. The level of trust and comfort they feel can mean the difference between a one-time visitor and a life-long customer. Every step of the way you want your customers to have a positive experience.  And, the condition of your floors throughout your facility helps promote customer trust and satisfaction.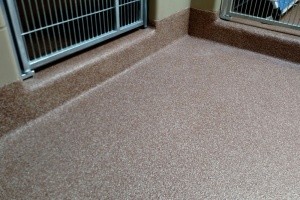 Resinous Floor Systems Can Help Your Animal Care Operation Shine
Your clients don't just sit in the lobby or waiting area.  You can give them a safe, clean and shiny welcome everywhere they go, by considering these areas as well:
Examination Rooms
Wash Areas
Holding Cells
Kennel & Training Areas
Hallways
Restrooms
Are your veterinary or animal service floors supporting your quality care initiatives?  Discover how AnimalSpec Pet Care and Veterinary Floor Systems can help support your professional image and reputation by downloading our FREE Systems Solutions Guide: Animal Care & Veterinary Operations. 
Latest posts by Sean Walsh
(see all)