With today's food safety requirements, it is more important than ever to properly design and implement a contamination prevention plan that covers all critical control points in your process like food flooring sanitation guidelines. But, are you presenting your well-designed HACCP plan as a marketing and sales tool?
Highlighting, or marketing, your contamination prevention processes can go a long way with the public and your customers, especially if you are a contract manufacturer or packager.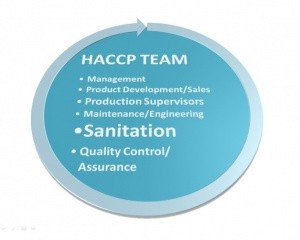 Presenting a Sense of Pride
You work hard to control potential contamination in your facilities. You clean and sanitize surfaces and follow food flooring sanitation guidelines. You've documented your CIP processes and your HACCP plans. You've even hired a food safety and prevention specialist, to seek out and address potential contamination hazards in your plant. Additionally, you've invested in HACCP and Food Safety Training for your employees.
You've made a significant investment in controlling contamination risk throughout your facilities. Why not share these accomplishments with your current and potential customers?
Creating Peace of Mind
By presenting your HACCP plan and contamination prevention protocols, you can certainly gain the trust of your customers and affiliates by assuring them the peace of mind they need to trust your quality and processes. The key is building an effective communications plan.
Tying It All Together
There are a number of things you can do to present your food safety prevention activities to potential contract customers. Here are a few ideas to get you started:
Create a marketing piece that overviews your commitment and dedication to ensuring food safety while following food flooring sanitation guidelines. List specifics about your sanitation programs and highlight any unique "over and above" preventive measures your organization utilizes.
Create a video presentation that highlights your company's dedication to food safety
Ask your safety equipment suppliers/vendors for written references that you can share with potential customers.
Ask your supply and equipment vendors if they have a certification program. For example, Protective Industrial Polymers offers a "Certificate of Antimicrobial Concrete Pretreatment" for its InhibiCrobe floor and wall coating systems. Many clients have framed the certificate and proudly display them.
Assemble a comprehensive multimedia kit to send to potential customers
With some creative thinking, you can leverage your efforts of creating a contamination-free processing environment with antimicrobial certified flooring into a sales and marketing platform that can boost your reputation, instill peace of mind in your contract customers, and help increase your bottom line.
Is contamination a hot-button topic in your food facility? Want to learn more about protecting your building envelope? Click here to access our multimedia kit: "Effectively Control Floor & Wall Contamination" 
Latest posts by Sean Walsh
(see all)