We often view industrial production floors as a potential source of danger. A liquid spill could cause an employee to slip, a badly worn surface may increase wear on tow motor equipment, or line striping meant to warn workers about potentially dangerous conditions can wear off and become useless. Your floor is that common element that everybody uses in your production facility.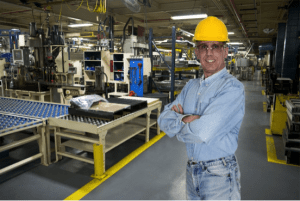 A Floor Coating Project Helps Create a Safer Work Environment.
There are many ways for a new floor to promote safety. A polymer floor system can provide improved traction, ease of cleaning, clear plant navigation, impact-resistance from dropped tools and enhanced light reflectivity. All of these elements help support your need for a safe, healthy and pleasant workplace.
Your 5S Initiative and Floor Can Support Safety Together.
The "Straighten" element of 5S floor marking results in a situation where regularly used items are kept nearby and identified. This standard practice eliminates waste by minimizing the time it takes workers to obtain and use production materials. Examples are hand tools, gauges, production fixtures & tooling, raw materials, machinery and consumable items. A re-coated 5S production floor can be color coded to indicate where these items are stored under your 5S process. 5S floor marking can also use color and design to indicate work cells, machinery locations, hazardous areas and traffic lanes to promote safety of your workers. These "floor markers" won't wear out like conventional tape or paint. Also, an easy to clean floor ("Shine") with a non-slip texture can help minimize slipping hazards.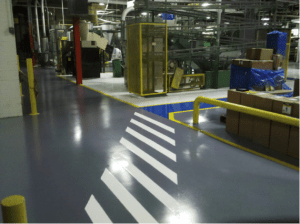 Four Important Points to Remember for Your Facility:
Incorporate safety into your 5S process.
Your floor is a key part of a safe working environment. It's one tool that everybody uses.
A re-coating project provides you with the opportunity to use lasting color and design to promote safety and your 5S initiative.
Communicate to your team safety is the "sixth" element of 5S floor marking.
What Has Been Your Experience with Safety and 5S? To learn more about how a new floor can stimulate your entire 5S initiative, check out our free article "Your Plant Floor Coating Can Stimulate Your Entire 5S Initiative".
Latest posts by Sean Walsh
(see all)