The uncontrolled pyrotechnics of a thunder and lightning storm, which is electrostatic discharge (ESD) writ large, is a thing of beauty when viewed from far away. But close up, in your office or factory, the havoc from ESD is costly.
Electrostatic discharge can cause significant injury, damage, and financial loss. Failure of components used in solid-state electronics, like integrated circuits, affects an array of industries. With damage to critical parts comes major financial loss. That is why it's crucial to invest in esd flooring installation if that is something your facility needs to avoid loss. 
The number of industries and products affected by ESD is  far and wide, including:
Electronics manufacturing (including electronic coil, components, and machinery)
Telephone Apparatuses
Semi-conductors
Avionics
Data centers
Power, distributions, and specialty Transformers
Radio and TV broadcasting communications
Printed circuit boards
Magnetic and optical recording video
Pharmaceutical processing labs
Medical device manufacturing labs
and many more.     
Over the decades, research dollars have been poured into finding safe ways of dealing with ESD through esd flooring installation. Today, one of the most effective available is InhibiStat ESD Control Flooring, a polymer flooring designed to handle the negative effects of electrostatic discharge.

Explaining the ESD Problem
ESD is a part of the natural world, a circumstance that has caused everything from annoyance to major frustration for people and businesses dealing with this age-old problem.
Static electricity is caused by an imbalance of electronics on the surface of a material. The electric field it produces can influence other objects at a distance. The surfaces affected attract dust and other types of contaminants, all difficult to remove —  and the source of damage to many types of sensitive electrical components.
Electrostatic discharge, or ESD, is the immediate, uncontrolled discharge of electricity between units that exist at different electrical potentials. The result is the degradation or destruction of electronic components, equipment failure or malfunction. With a esd flooring installation team you can have your esd floors ready to go in your facility to avoid any mishaps. 
The ESD Solution and Its Benefits
Many environments, especially those manufacturing electronic components, require a static control system for safety, efficiency, and quality control. One of the most essential parts of any static control program is the right floor treatment.
InhibiStat ESD Control Flooring, just one of the products offered by Protective Industrial Polymers, is an optimal ESD solution.  InhibiStat ESD Control Flooring provides the following important benefits.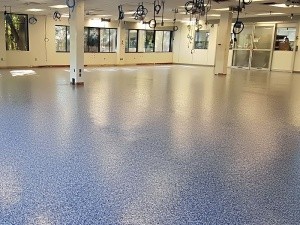 Controls Electrostatic Discharge
When integrated into an overall anti static program, InhibiStat ESD control flooring systems reduce the risk of damage to manufactured components by lowering the chance for ESD occurring through testing esd floors.
Protective Industrial Polymers is dedicated to the research and development of effective solutions for ESD with conductive floor coatings that meet and exceed the current performance standards in the industry.
Eliminates Immediate, Catastrophic Failure
Your profits get zapped by the destructive effects of ESD, which can cause immediate, catastrophic failure to your electronic components.
ESD flooring reduces the risk to your components by effectively reducing the potential for ESD. Without the right kind of anti static flooring, the money, time and energy you put into producing electrical components can be wasted.
Specifications for ESD guidelines and regulations are becoming more stringent. Designing and setting up an effective ESD control program is imperative to stay in compliance and to meet the requirements of your customers.
The right plan, one that makes the most effective use of anti static flooring, will help ensure low scrap rates for your products and limit the failure. All of this saves you money and helps ensure higher customer retention.
Stops Hidden, Latent Damage
Not all damage is immediately apparent. ESD can cause after-market failures, which translate into disgruntled "ex-customers". The hidden damage of latent failure is a nerve-wracking experience for a factory manager.
Components can fail months — or even years after they leave your factory. No business can withstand that kind of reputation.
With a well-conceived ESD Control program, solidly grounded on InhibiStat flooring, you can confidently sell your components, knowing your customers are safe from ESD-related problems occurring long after the sale. Sell reliability. Cultivate a reputation for dependability.
Provides High Light Reflectivity
The most versatile static control flooring is highly reflective. A big advantage of InhibiStat ESD Control Flooring is the high gloss it produces.
The surface is designed to reflect light, making it ideal for electronics assembly areas. In fact, any industry that needs high light reflectance and values aesthetics will benefit from InhibiStat ESD Control Flooring.
Available in Wide Variety of Colors and Finishes
It's important to make your working space attractive, whether it is a lab, factory floor, a hospital area,  office space, or aircraft hanger. And now you are no longer limited to a sparse palette of single, dark colors for your static control flooring. Protective Industrial Polymers has created a floor coating using innovative particulate ESD technology.
This means you can now choose from a vast swatch of vivid, bright tones. And it can be applied as a transparent topcoat over quartz and flake floors.
With InhibiStat ESD Control Flooring, there is no waxing required and the surface is easily cleaned. The result is much lower costs over the life cycle of the floor.
Includes Expertise in Design and Installation
Each esd flooring installation receives hands-on attention from our specialized sales team. They work directly with your QA and engineering groups to find out your exact needs, answer questions, and examine your physical setup. Each floor is customized to your precise requirements in order to become an integral part of your ESD protocol.
The anti static flooring is installed by experts and receives factory certification in the field. You will be handed Certificates of Compliance after the work is done.
It doesn't matter if you are a contract PCB assembler or a Class 0 avionics lab, if you handle a casino command center or run a semiconductor manufacturing plant, Protective Industrial Polymers has the system that will meet your precise needs.
Summary of Benefits
Here is a quick look at the features you can depend on with a InhibiStat ESD Control Floor.
It easily integrates into your particular ESD prevention system.
You receive of certificate of ESD compliance.
Its effectiveness is not dependent on humidity.
It resists stains and chemical spills.
The durable finish resists abrasions and impact.
It is available in a wide range of thicknesses, textures and colors.
It is compliant with Voc regulation and ANSI 2020 Revision.
It is user-friendly: low-odor, easy to install, easy to maintain, aesthetically appealing.
These benefits are useful for a wide range of environments, including:
Electronic assembly areas
Airplane hangars
Printing plants
Data processing areas
Casino command centers
Solvent and ink storage areas
Clean rooms
Testing labs
Packaging areas
Semiconductor assembly lines
PCB assembly
Hospitals
Telephone apparatus manufacturing
Fields that are part of the 3600 SIC Classification
InhibiStat ESD Control flooring reduces the chances of injury, damage, and the ensuing financial loss from electrostatic discharge in your work areas.
Save yourself from the frustration and cost of accidents, downtime, and angry customers. Upgrade to ESD Control Flooring, an essential part of every robust anti-ESD program.
Read our InhibiStat ESD Control Flooring Systems brochure today,  then give us a call at 866-361-3331 or tell us about your flooring on our convenient online form.
Latest posts by Sean Walsh
(see all)