Although applying an epoxy or urethane floor coating can be one of the simplest flooring solutions, there are often small details that some overlook, which can complicate the installation and sometimes turn the final product into an eyesore.
One of the most detrimental mistakes that can be made is not prepping the floor correctly. In the majority of cases, there needs to be a bond between epoxy and concrete; not epoxy and dust, a concrete sealer, oil, grease, or other contaminants. The necessary concrete prep usually involves either a diamond grinder or shot blaster. Both of these tools actually remove a layer of your existing floor and concrete, ensuring there is nothing on the surface but bare concrete. Without the proper preparation, there is a higher probability that your epoxy floor will not properly adhere, and will peel over time.
Temperature and environmental factors can also play a huge part in an installation. Cure time, pot life, working time, and the way the material handles can all be variables when the temperature varies by even 10 degrees. It is also good practice to test the floor for the amount of water vapor that is coming up through the concrete. This is usually done with a calcium chloride test. Water vapor can get trapped between the concrete and the floor coating, causing bond issues or outgassing in your coating. Reviewing the manufacturer's material Technical Data Sheet is always a good idea to determine the most ideal working conditions.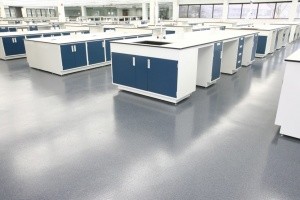 Before purchasing your material, review what your distributor offers. Typically, they offer product options to accommodate a number of environmental and jobsite factors. This includes systems for areas with high vapor drive, low temperature, oily substrates, rough and pitted concrete, and much more.
Are you planning an industrial floor coating project?
Take our online Flooring Self-Assessment. You might be surprised at what you uncover about your floors.

Latest posts by Tom Vath Jr.
(see all)