We blogged previously about the important role a new industrial floor plays in a 5S initiative. But, how do you effectively manage a major floor renovation, while keeping your sanity, during your 5S project?
A 5S project encompasses a cultural change that involves a lot of work from a lot of people…and a lot of headaches. A floor renovation project is a physical change that can affect many facets of 5S, but it is just one piece of the overall puzzle. A true 5S initiative can be overwhelming to get off the ground.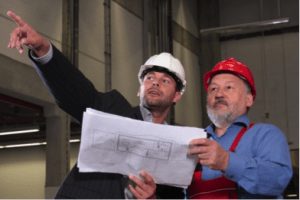 Managing a project within a project?
When implementing a 5S initiative, a great deal of responsibility falls on a company's facilities department. The chore of sorting equipment, organizing tools and resources, and stabilizing items to promote an efficient work place can certainly be a daunting task. Osha floor markings can help keep your facility organized and safe for personnel. If a major floor coating renovation is part of your overall 5S strategy, it can be difficult to manage yet another project.
Floor coating projects require more effort than one might expect. A typical floor coating renovation consists of the following phases:
Manufacturer's Consultation
Floor System Specification
Labor & Materials Proposal
Proposal Review
Scheduling
Installation
Punch-list & Closeout
Warranty
There is hope for you
Managing all of these phases can put unnecessary strain on facilities personnel when implementing the 5S production floor system and osha floor markings. There is help out there. Turnkey service and material providers offer a "one-stop shop" for floor installation projects.
One such turnkey program is Protective Industrial Polymers' SingleSource. This program manages all aspects of a floor coating project, from initial consultation and floor system recommendation, through the scheduling and installation phases. This program even helps with operation and maintenance and post-installation support. Utilizing a turnkey solution can ensure consistency among your facilities, providing consistent construction materials combined with professional installation support and project management and consultative services. Best of all, it's a single point of contact, a single contract, and a single invoice.
Want some help?
Working on a 5S initiative? To learn more about how a new floor can jumpstart 5S, check out our free article "Your Plant Floor Coating Can Stimulate Your Entire 5S Initiative".
Latest posts by Sean Walsh
(see all)