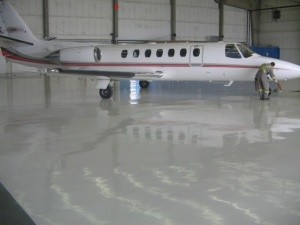 Aircraft ground damage prevention is a critical component of your safety strategy.  The top risk factors for problems, in order of frequency, include towing, ramp movements, ground service equipment, and hangar movements.  Any accident is a serious risk to human life and can also result in expensive damage to the aircraft. That being said, implementing aircraft hangar floor markings into your flooring is crucial for the safety of your personnel. Plus, removing a crippled airplane from service, because of an accident, reduces revenue for the aircraft owner and the hangar operator.
Using Color in Your Hangar Floor Strengthens Your Safety Procedures
When you are moving aircraft, within your hangar, your safety policy calls for certain steps to be taken for a safe movement.  Wingwalkers and the tug operator form the human element of this process.  But, you also need perimeter floor markings which indicate the limits of aircraft placement near your hangar walls.  This use of your floor makes it easy for your team to visualize boundaries for placing and moving aircraft.
Other aircraft hangar floor markings can indicate:
Aircraft positions for entry and exit
Safety lanes
Pedestrian walkways
Fire lanes
Dedicated storage areas for:

Hand tools and equipment
Materials and parts
Waste accumulation
The use of standard safety colors makes in your hangar floor projects makes it simple to indicate the proper movement of people, equipment and other resources.
You Need Floor Markings That Will Last and Protect Hangar Revenue
Traffic line tape or paint can quickly wear out and lose their effectiveness from the heavy wear environment of your hangar's operations.  A safety indicator that can't be easily seen is useless.  However, by using a pigmented epoxy traffic line product, which would be an inherent part of your polymer floor coating, you can have long-lasting aircraft hangar floor markings which are durable with excellent abrasion, impact and chemical resistance.  You want to be sure your floor is continuing to be an effective and long-term "member" of your safety team!
Would You Like to Share Your Experience With Hangar Floor Safety?
We want to hear your story! Please comment below.
Building a new hangar or maintaining an existing one? Your floors are an integral part of the process, and we can help. Request for our FREE HangarSpec Flooring Systems informational kit and we will ship it right out to you.
Latest posts by Sean Walsh
(see all)