When customers see a well-organized, shiny, and safe floor, it sends a clear statement about your professionalism.  Then, they are more likely to be long-term clients and refer others because of their confidence in your operations.  You spend a lot of effort creating a welcoming service environment and your floor is part of that strategy.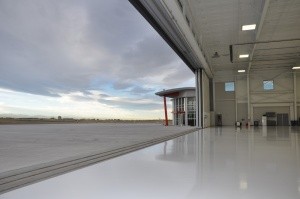 How can your floor help?
Polymer flooring systems and the right hangar floor coatings offer a number of important advantages in terms of supporting your sales efforts.  Here are some areas to consider:
Maintain efficient and safe flows of workers and customers by using color coded traffic lanes and boundary markers, built directly into your floor.
Your floor can have excellent light reflectivity which enhances your facility and the aircraft parked in it. A bright atmosphere and the correct hangar floor coatings makes customers and workers feel welcome in your hangar.
Safety is always important and epoxy flooring systems can contain additives that provide greatly enhanced slip-resistance while being easy to clean.
Customers may also visit offices, conference rooms, breakrooms, and the restroom, as well. A durable designer look can be incorporated, in all of these areas, with a variety of decorative additives.
The best flooring choice for your hangar
A polymer floor system can be designed to meet the specific needs of each area of your operation.  And, since the areas of a hangar can be quite large, a liquid-applied floor is certainly the best overall time and cost-effective option.  More importantly, these hangar floor coatings can provide an environment that promotes customer satisfaction and worker morale.  Your aircraft hangar flooring supports everything you do and it should be an effective "member" of your sales team.
How sales can improve with new floors
Having the perfect floor that corresponds with your company's needs and wants can be made easier by focusing on what type of environment you wish to have at your company. By installing flooring that was specifically engineered for the aviation industry, businesses owners can more effectively put their trust in their buildings. If the sales team has confidence in their environment, it will be easier for team members to instill confidence in customers.
Once customers feel the hangars are reliable, they are more likely to keep coming back. Continuously, if they have a good experience, the customers may refer a friend to your company's services.
How safety improves sales
Having customers and crew members walk across long stretches of flooring is very common in environments such as hangars. Choosing a polymer flooring that specializes in chemical resistance, light reflectance and abrasion resistance, can increase safety with the many benefits that occur after installation.
Having chemical resistant floorings allows hazardous materials to be easier to clean in what would otherwise be a porous environment without the specialized flooring material. Light reflectance improves visibility, which can help crew members both in and out of the plane become more aware and comfortable of their surroundings. Abrasion resistance is an absolute need in the aviation industry with the unmatched amount of heavy machinery that is used to perform daily tasks.
Do you need some help?
Contact us with your questions and share your stories.  We would be glad to hear from you and tell you about our HangarSpec aviation floor coating systems!
Building a new hangar or maintaining an existing one? Your floors are an integral part of the process, and we can help. Download our latest white paper, or sign-up for our FREE HangarSpec Floor Systems informational kit and we will ship it right out to you.
Latest posts by Sean Walsh
(see all)