Though not the first thing on a hangar operator's mind, hangar floor coating installation, maintenance, and replacement is an important financial concern in today's dynamic and competitive corporate hangar market.
When thinking about aircraft hangar floor design, aviation maintenance and hangar floors require long-lasting, high-performance polymer coating systems that will withstand the rigors of the aviation industry. From protecting the concrete slab from wear, abrasion, and chemical attack, to providing a light-reflectant, safe, and aesthetically-pleasing appearance, these floors must perform flawlessly to keep aircraft traffic continuously taxiing in and out of the hangar.
"It's very simple," says Kevin Larson, Executive Vice President of Tectonic Management Group, Inc. "If a hangar is sitting idle due to floor repair or maintenance, the owner is losing revenue."
Protecting a Hangar Owner's Interests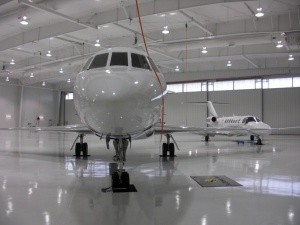 "One small setback on a hangar floor installation can end up costing an owner hundreds of thousands of dollars in lost revenue," adds Larson.
Tectonic Management Group, Inc. is a nationwide turn-key design/builder of general and business aviation facilities. The group specializes in aircraft hangar floor design and construction of corporate flight departments, fixed base operations, aviation completion and maintenance facilities, aviation paint hangars, and commercial facilities.
"As the owner's impartial representative, Tectonic promotes decision making that is in the owner's best interest," says Larson.
The Right Team for the Job
Not only must these hanger floor coating systems be engineered specifically for the aviation industry, they must be manufactured and installed by vendors and applicators that understand the end-user's concerns.
"Tectonic values it's vendor/installer network," says Larson. "We work closely with this network on multiple projects because we are familiar with their expertise."
Larson suggests the assembling of a team that recognizes hangar downtime can mean hundreds of thousands of dollars in lost revenue is crucial when scheduling a hangar construction or maintenance project.
"It's vital for all parties involved to understand exactly what is at stake in these situations," Larson notes. "Our clients rely on us to make the right material vendor and applicator decisions to minimize costly downtime."
As a turn-key aircraft hangar floor design and construction provider, Tectonic Management Group is at task with providing value-engineered service solutions so owners and their consultants can make well informed data-based decisions.
When specifying an aviation floor coating system, Larson suggests that many factors come into play aside from bottom-line cost.
"We take into consideration everything from total life cycle costs, to quality of material, to installation contractor experience," says Larson.
Working With the Right Vendors
When it comes to high-performance hangar floor coatings, Tectonic prefers to work with a short list of material and installation service providers.
One such provider is Cleveland, Ohio-based Protective Industrial Polymers. PIP manufactures high-performance polymer coating products specifically geared toward niche markets. PIP's HangarSpec line of aviation floor coating systems, combined with its consultative approach and highly competent installation contractor network, has proven to be a beneficial partnership with Tectonic.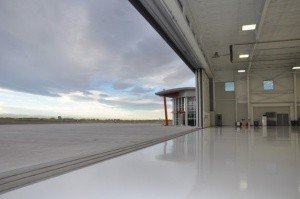 "We have established a close relationship with Protective Industrial Polymers staff, it's HangarSpec product line and installation contractor network." says Larson. "We know that this team understands our business, as well as the hangar owner's concerns."
Managing a hangar project? Find out how we can help keep your operation running smoothly with minimal downtime. Click here to request your FREE HangarSpec information packet, and we will ship it right out to you.
You can learn more about Tectonic Management Group, Inc. by clicking here.
Latest posts by Sean Walsh
(see all)