A great deal is involved in making a hangar floor both durable and appealing. The right hangar floor coating is integral to your airport construction or hangar project.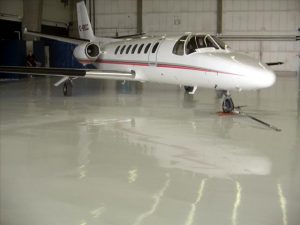 When choosing an industrial floor coating system for your hangar, it's important to determine your specific needs. Are there impact-resistance requirements, from dropped tools or heavy equipment coming in contact with the floor? Is there a high amount of abrasion and traffic from forklifts or other machinery? Are chemicals, including aviation fuels or paint strippers, being used in the facility? Answering these questions will help to determine the best hangar floor coating for you.
To begin, you'll want to select a hangar floor coating system that is chemical and slip-resistant, light-reflective, and high-gloss. A hangar floor that endures more aggressive wear and tear requires a high-performance mortar system that will buffer the impact of dropped tools, heavy aircraft parts and continuous traffic. In hangars with floors that are exposed to higher levels of aviation chemicals and paint stripping operations, an enhanced chemical-resistant coating system is the preferred choice. If the hangar space is used for maintenance of sensitive aviation electronic equipment, an ESD-control flooring system might be specified.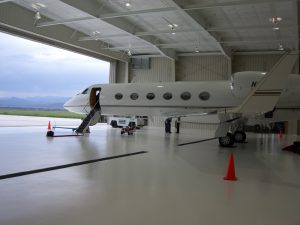 Airport hangar floor projects have unique requirements. The floor coating systems should be designed to meet and exceed these requirements. As you search for a flooring solution, you'll want to connect with a company that develops systems for specific hangar floor requirements, not simply a one-size-fits-all solution.

Protective Industrial Polymers' HangarSpec series of hangar floor coating systems is designed to address the specific demands of the aviation industry. HangarSpec offers a variety of systems with unique advantages to tackle the challenges of your hangar flooring needs.
HangarSpec's HB-3 system produces a high-gloss, chemical-resistant, light-reflective surface and is ideal for hangar floors that receive general wear and tear. HB-3 uses a moisture-tolerant primer and build coat that is top-coated with a high-performance aliphatic polyester urethane or a polyaspartic.
The HangarSpec HB-4 system is a premium four-coat, high-build system that features enhanced wear-resistance, chemical-resistance, gloss and light-reflectance.
PIP's HangarSpec NCR system meets the specific demands of floors that are exposed to aggressive aviation chemicals or stripping operations.
HangarSpec CM-P produces a durable, restored concrete substrate with a high-gloss, chemical-resistant, light-reflective surface. A cement-based mortar/resurfacer system coated with a moisture-tolerant epoxy provides HangarSpec CM-P with enhanced shine and durability.
When it comes to resurfacing old, damaged concrete in areas subject to extreme conditions, the HangarSpec PB-M offers offers a polymer-based mortar/resurfacer system that provides a heavy-duty and wear-resistant surface.
In aircraft instrument production areas and other areas needing protection from static electricity and chemical damage, PIP's HangarSpec CR-ESD answers the call with a five-coat, high-build system featuring a high-performance ESD-Control urethane topcoat.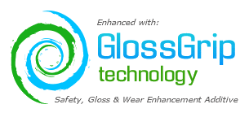 For added durability and protection, any HangarSpec floor coating system can be enhanced with PIP's Gloss-Grip Technology. The Gloss-Grip additive increases the safety and wear characteristics of the floor system without compromising on the slip-resistant, high-gloss finish.
HangarSpec floor coating systems have been created to be high-grip and high-gloss, with superior durability and ease of maintenance in mind. A hangar floor with the right qualities can reduce your maintenance costs while improving the overall appearance and durability.
When planning your industrial floor coating project, be sure to contact an expert who can assist you every step of the way.  Our free informational kit offers everything you need to begin your search for the ideal hangar floor coating system.
Latest posts by Sean Walsh
(see all)