As a corporate hangar operator, it's important to maximize the revenue of your facility while completing the required maintenance that keeps you competitive.  However, hangar floor projects that are not carefully planned will lead to problems.  You don't want to have an empty hangar for any extended time period.  That situation can be riskier than a hangar with lots of expired sublease agreements and stagnant rates!
Your Floor is a Critical Part of Your Success.
A hangar floor should be long-lasting, so it needs to resist the wear, abrasion, and chemicals associated with aviation operations.  It should also be light-reflectant, safe, and provide a pleasing appearance while aircraft traffic is continuously taxiing in and out of your hangar.  Your aircraft hangar flooring provides a solid foundation for everything you do.
You Have a Lot of Projects to Manage.
When it comes to hangar floor projects, floor coating installation, maintenance, and replacement must be done, but you do have many other items on your priority list.  A high-performance polymer floor coating that will withstand the rigors of the aviation industry is critical. But, this type of work must be completed efficiently to minimize any loss of your revenue during the process. What options do you have?
SingleSource Can Help.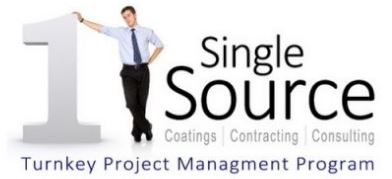 SingleSource, which was developed by Protective Industrial Polymers (PIP), is a turnkey project management program that includes everything from start to finish.
Here's what makes it simple for you:
HangarSpec Aviation-Grade Floor Coating System
Dedicated project manager –  no "finger pointing"
Streamlined "change order" process
Consistency: standards can be duplicated at multiple facilities
One contact / single provider means getting to a solution quickly
One Stop Shop with One Invoice
Peace of mind
Warranty support
Keep the Focus on Maintaining Your Hangar Revenue
Work with a vendor that will minimize costly downtime and achieve the flooring results you need to be successful.  An experienced partner will make your life easier when it's time to schedule your hangar floor projects.
Building a new hangar or maintaining an existing one? Your floors are an integral part of the process, and we can help. Sign-up for our FREE HangarSpec Floor Systems informational kit and we will ship it right out to you.
Latest posts by Sean Walsh
(see all)