Everyone wants beautiful, slip-resistant aircraft hangar floors to display and safely house their aircraft fleet, but for aircraft maintenance operations it's more about the floor's performance and function. Believe it or not, your maintenance aircraft hangar flooring plays a major role not only in maintenance workmanship and efficiency, but also in general fleet safety…both on the ground and in the sky.
Impact and Abrasion Resistance
Aircraft repair and maintenance operations require flooring that can stand up to heavy wear and impact abuse. Engines, heavy parts, equipment hoists and jacks scraping across the floor can badly damage bare concrete. Additionally, impact from falling engine parts, dropped tools, or sharp objects coming into contact with the aircraft hangar flooring can damage the concrete surface. Hangar floor coatings and resurfacers are designed to provide enhanced impact and abrasion resistance, with some options being three to four times more impact and abrasion resistant than bare concrete.
Resistance from Chemical Attack
Aircraft maintenance operations require the use of specialized chemicals, oils and fuels, such as Skydrol and Ardrox 2871 stripper. These chemicals can damage bare concrete and permeate through the slab and into the earth below. A chemical-resistant polymer floor coating can help contain chemical spills and immersion, protecting your concrete substrate and surrounding environment. Depending on the system chosen, a chemical-resistant polymer floor coating can withstand casual splash and spill, or continuous immersion, of these aviation-related chemicals.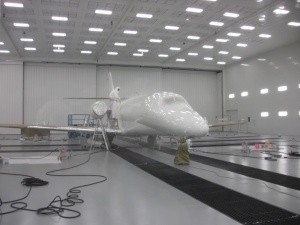 Light-Reflectance for Improved Visibility
Has your mechanic ever dropped a screw or nut on a dark floor and had a problem finding it?  Or, would some additional light help your maintenance crew better see into the engine cavity?  Quick maintenance turnarounds are important.  A bright, high-gloss polymer floor increases all available light, reduces the need for additional ceiling lights and improves the efficiency of your work processes.
ESD-Control for Sensitive Electronic Components
Avionics systems and specialized gear contain highly sensitive electronic components. These sensitive components are susceptible to damage caused by static discharge. A comprehensive ESD-control program should be a part of every avionics maintenance operation. An ESD-control polymer floor provides a solid foundation for any comprehensive ESD-control program.
Do you need some help?
Contact us with your questions and share your stories.  We would be glad to hear from you and tell you about our HangarSpec aviation floor coating systems!
Building a new hangar or maintaining an existing one? Your floors are an integral part of the process, and we can help. Download our latest white paper, or sign-up for our FREE HangarSpec Floor Systems informational kit and we will ship it right out to you.
Latest posts by Sean Walsh
(see all)