Specifying the right flooring system to satisfy your unique performance, durability and aesthetic requirements is a learned process. There are so many quality industrial flooring and design solutions available on the market today, it is a monumental task to decipher which solution is the right one for your business process. The truth is, there is no "one size fits all" solution out there. Flooring "systems" are a combination of products designed to work together to address your unique performance, durability and aesthetic requirements with industrial floor cleaning.
There are a great number of factors to consider, from environmental factors, to performance characteristics, to final aesthetics and texture. To help you better understand just what factors go into building the best quality industrial flooring and design system for your unique application, we came up with the "PIP Project Consideration Process", which identifies the following:
#1 – Initial project considerations
One of the first things you should look at when considering an industrial flooring system is the current condition of your concrete substrate. This will help drive the type of flooring structure you should install within your facility. So, start by evaluating the following:
Concrete condition
Contamination
Physical exposure
Thermal exposure
Chemical exposure
Specialty performance
Accessibility
Environment
#2 – Floor system structure selection
There are four main flooring system structures that can be customized to meet your needs in quality industrial flooring and design. These system structures are layered groups of polymer products designed to help you meet a specific requirement for a particular application. Think of products as building blocks of a complete flooring system. When you think of systems in this way, you'll see that there are literally unlimited combinations of products to help you meet your desired outcome.
Protective Industrial Polymers breaks system structures down into four categories: coatings (CT-Series), broadcast systems (BC-Series), slurry systems (SL-Series) and mortar flooring systems (MT-Series).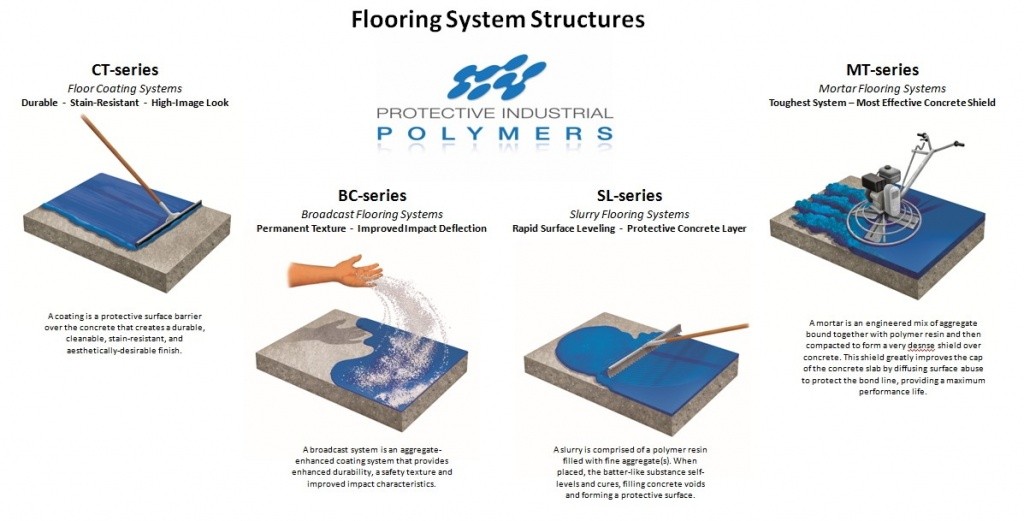 #3 – Main system performance driver
The main system performance driver will dictate the top tier performance characteristic of your new flooring system, regardless of the system structure(s) selected. In many cases, you may be presented with a variety of options with that main performance characteristic. The Performance Drivers are:
'Pro' – All Purpose
'XTreme' – Extreme Use
'Chem' – Chemical-Resistant
'FS' – Fast-Set
'SR' – Shock-Resistant
'Flex' – Flexible
#4 – Additional custom system attributes
Custom system attributes are additional performance characteristics that can be incorporated into the design of your finished floor system. One, or many, may be incorporated to your unique performance requirements. These attributes include permeability, vapor mitigation, added abrasion resistance, stain resistance, installation odor, moisture tolerance, installation speed, decorative finish, oil tolerance and added impact resistance.
#5 – Aesthetics and texture options
Aesthetics and texture are the final step to building the perfect flooring system. This is where the overall look and finish texture of the floor system are determined. From solid colors to decorative options, smooth to safety texture profiles, many options are available. Performance-enhancing texture additives are also available, offering enhanced wear-resistance, easy cleanability and improved light-reflectance.
Unlimited colors
Unlimited decorative blends (Vinyl Flake, Colored Quartz, Metallic Pigments)
Profile textures (Satin-Smooth, Gloss-Smooth, Broadcast Safety Profile)
Performance-enhancing texture additives (DiamondWear, GlossGrip)
Careful assessment of your facility's requirements is essential when choosing the right industrial flooring system. Every facility has its own set of unique needs, and a flooring professional can help you design the perfect flooring system to meet those needs.
Want to learn what kind of flooring system might be right for you? Take our FREE Flooring Self-Assessment today!
Latest posts by Sean Walsh
(see all)