You spend a lot of time creating a welcoming environment for customers to review your selection of vehicles on your showroom flooring. You spend a lot of time creating a welcoming environment for customers to review your selection of vehicles.  Every car has been cleaned and polished until they shine to make them as attractive as possible.  Your advertising, product literature and positioning of all the fixtures of your showroom are just right.  You have a team of knowledgeable and friendly salespeople. But, if your showroom flooring is not in top form, you are not ready to sell.
Your Floor is Part of the Sales Team
Customers expect a clean and attractive floor. And, your floor should enhance the product you are selling so it's important to keep up with automotive flooring requirements. Durability, slip-resistance, aesthetics and ease of maintenance are key features of any floor you select.  However, shine or light-reflectance of the surface is the factor which can really enhance the vehicles you're selling.  Take a look at this major showroom presentation of classic cars.  The light-reflectance of this polymer floor makes an incredible impression.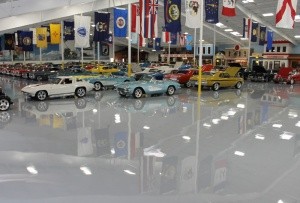 Key Advantages of Polymer Flooring
Light-reflectance enhances your product
Create a durable design in the surface that supports your brand image
Eliminating any cracks or grouting makes cleaning very easy
Polymer floors can be formulated to be abrasion and impact resistant
Easily incorporate slip-resistance for safety
Resists rubber staining from tires
Minimal maintenance is required
Your showroom flooring is Very Impactful
You need look at your showroom as an integrated sales environment which supports an important part of your sales revenue.  It's a natural draw for people to view the latest vehicles available and the newest features.  Your brand is brought "alive" here and it's a great opportunity to also introduce people to your used cars, service facility, financing options and accessories.  Every step of the way you want your customers to have a positive experience.  And, your floor is part of that feeling throughout your facility.
Polymer Floors Can Help Your Whole Facility Shine
Your customers don't just stay in the showroom.  You can give them a clean and shiny welcome everywhere they go.  Consider these areas as well:
Sales and Finance offices
Write-up Areas and Service Bays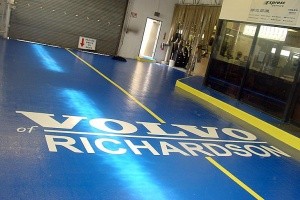 A polymer floor provides a great reflection of you and your products every day!
Are your dealership floors a member of the sales team?  Discover how DealerSpec Automotive Service & Showroom Floors can help support your professional image and reputation.
Latest posts by Sean Walsh
(see all)